2006-03-17 12:32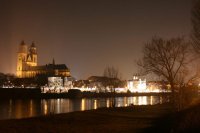 nothing happend here for the last month(s)... sorry, we were pretty busy at work which lead to few sleep and long worktime. and in the little sparetime i had i just wasnt in the mood to post .. well .. basicly nothing.
anyway. good news from my favourite band, tool. may 2006 will be a good month since they release a new album … yeah. and to make things better: they ll play a show in berlin". yeah2. and yeah3, since i love the location. and to make things great: i have already tickets for the show :) yeah4 till yeah10. happy me, happy me.
next big thing for us: we won the "best windowmanager of 2005" award .. hehe … again. see the results yourself. thanx to the voting community out there, we highly appreciate it. henrik tries to release 0915 this weekend, hopefully he ll manage it coz i am a bit caught in preparation for the trip.
lumberjack and i will go to berlin tomorrow to see a show of iron henry. it will be a spoken words show, we are really curious about it. i ll write a little report, when i am back from (next big yeah) my first vacation this year, starting on sunday, right after the show of henry.
my plan is to stay 1 day in berlin at a friend, then travel to tenner, a great fluxbox style make, turn north and visit another old buddy in bremen and finally traval to paris, where my little sister and her boyfriend lives. i ll take the cam with me, we ll see what comes into my focus :)
as some of you might know i am a little chili-eater. today i just read a little article on slashdot, that chili isnt only good for your stomach, but also for your "prostata". check out this link. now i feel much better :)
well, enough blabla from me, more of it when i am back. so long, yours truly.
^^^